[Continued] 7. SS-cleavable and pH-responsive Lipid Like, Material (COATSOME® SS-Series)
• Example of use  
 For tumor gene delivery
The particle composed SS-33/3AP-05 encapsulating pDNAencoding sFit-1 respond to treatment of subcutaneouslyimplanted OS-RC-2 tumor in mice.
SS-33/3AP-05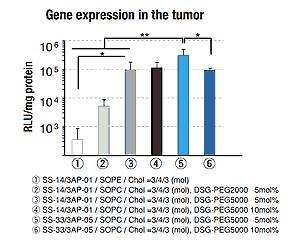 H.Akita et al., J.Controlled Release, 2014,
DOI: 10.1016/j.jconrel.2014.12.029
For Hepatic gene delivery
 The particle composed SS-14/3AP-01 is suitable for hepatic gene delivery. Using SS-14/3AP-01, gene expression was retained for 2 weeks.
 SS-14/3AP-01                                     Hepatic gene expression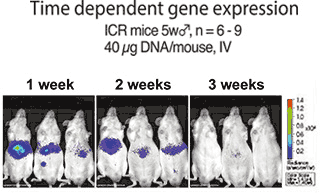 M.Ukawa et al., Adv. Healthcare Mater., 3, 1222-1229 (2014)
For Hepatic siRNA delivery
 SS-33/4PE-15 is designed to achieve efficient endosomal escape by adjusting liposomal pKa.
The particle composed of SS-33/4PE-15 encapsulating siRNA showed efficient silencing of gene expression in vivo.
SS-33/4PE-15
 Preparation of particles for siRNA delivery
A lipid solution in t-BuOH was prepared by mixing cholesterol, PEGylated lipid and COATSOME®SS-series to achieve 18mM total lipid. While stirring the lipid solution, A siRNA solution in 20 mM
Malate buffer (pH 4.0, 30 mM NaCl) was quickly added, and thereafter 20 mM Malate buffer (pH 4.0, 30 mM NaCl) was added to dilute the mixture. The mixture was concentrated by ultrafiltration.
Thereafter, it was diluted with PBS (pH 7.4), and again concentrated. Finally, it was diluted with PBS to 0.05 μg/μL lipid concentration.